News
Product Launch: Crucial® MX500 SATA SSD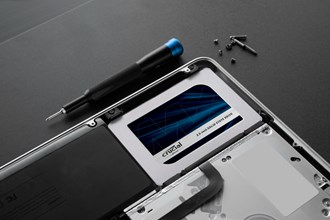 Published 29 September 2021
Store up to 4TB & start your system in seconds
The award-winning MX500 SSD range just got better with the introduction of 4TB capacity (CT4000MX500SSD1). Improve system performance and increase workforce productivity by upgrading to the Crucial® MX500 SATA SSD. With an MX500 upgrade, systems start-up in seconds, and up to 4TB of storage provides ample room for even heavy file loads. The MX500 is built with Micron® quality, speed, and security that's all backed by helpful service and support.
Ideal for
SATA storage for everyday computing
Key Features
Sequential read/write speeds of 560/510MB/s1
Capacities of 4TB, 2TB, 1TB, 500GB, or 250GB2
SATA interface
2.5-inch form factor
5-year limited warranty
Dynamic write acceleration
Redundant array of independent NAND (RAIN)
Multistep data integrity algorithms
Adaptive thermal protection
Integrated power loss immunity
Active garbage collection
TRIM support
Self-monitoring and reporting technology (SMART)
Error correction code (ECC)
Device sleep support
Speak to our team of experts to find out more or place an order today.