News
Product Launch: Intel® SSD D3-S4520 and SSD D3-S4620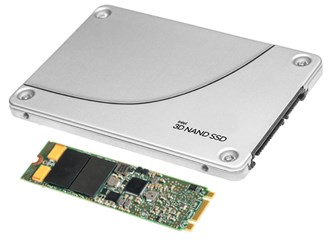 Published 20 September 2021
These drives come with some key benefits which are:
Reducing operating costs while preserving infrastructure investment
Accelerating read-intensive workloads with power-efficient performance
Improving system reliability and flexibility
Such reliable SSDs meet the demanding service level requirements of the datacentre, while increasing server efficiency. The fourth-generation Intel controller and innovative firmware, paired with the latest generation of Intel® 3D make the SSD D3-S4520 and D3-S4620 series compatible with existing SATA deployments for an easy storage upgrade.
The Intel® SSD D3-S4520 and Intel® D3-S4620 is compatible with legacy infrastructures and reduces the costs associated with modernising your datacentre. The drives are available in a variety of capacities from 240GB up to 7.68TB, and in standard 2.5-inch and M.2 80mm form factors, the larger capacity drives consumer up to 5x lower power and have up to 5x lower cooling requirements than that of traditional 2.5-inch HDDs. What's more, the SSD D3-4520 enables 3.2x more data to be stored in the same amount of space.
Accelerate your read-intensive datacentre workloads with power-efficient performance. Integrating such SSDs into the datacentre environment means you can improve server agility with up to 245x more IOPS/TB than HDDs. This allows you to support more users and better your services to grow your business without expanding your server footprint. These drives are up to 6.7x more bandwidth-efficient in sequential workloads, allowing an upgrade to hybrid or all-flash to better fit within the existing cooling solutions. On top of this, the Flex Workload feature enables a common drive type to cover more workloads with flexible capacity, endurance, and power-efficient performance.
Improve reliability, flexibility and minimise service disruptions. The reliability of the drives reduces the need for drive replacement that is necessary with HDDs. The actual annualised failure rate (AFR) is up to 1.9x lower than that of HDDs, meaning for IT departments they will spend less time and cost replacing or upgrading storage. What else is important, is once these SSDs are installed, the innovative SATA firmware completes updates with reset which means reduced downtime.
For years, Intel has been a true leader in providing trusted datacentre SSDs that maximise the data continuity in enterprise and cloud datacentres. Simms know that the reputation continues with the Intel® SSD D3-S4520 and Intel® SSD D3-S4620. The drives capabilities drive to the heart of ensuring that there is more uptime with durable performance to optimise service level continuity, end-to-end data protection, up to 1.9x lower AFR meaning fewer drive replacements, innovative firmware completes updates without server rest, and simplified configurations reducing the risk of component failure.
Speak to Simms about the Intel® SSD D3-S4520 and Intel® SSD D3-S4620 today.