News
Product Launch: Micron® 7400 SSD PCIe Gen4 Performance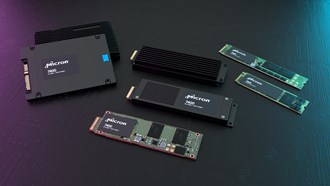 Published 6 October 2021
Micron has released the latest in datacentre infrastructure innovation with the Micron 7400 SSD with NVMe.
Extensive Form Factors, PCIe Gen4 Performance and Leading-edge Security
Servers are rapidly migrating from legacy datacentre technologies to NVM Express™ (NVMe) and flash-optimised form factors to maximise performance, reduce costs and provide a secure platform for virtualisation, containers, cloud, software-defined storage and more. Throughout these changes, one thing has remained constant — storage demands continue to increase radically. And those demands aren't letting up. Meeting the challenge requires forward-thinking storage — storage that easily fits into different platforms, storage performance tuned for your workloads and storage that is highly secure. Storage like the Micron 7400 SSD.
Solid-State Storage Optimised for Growing, Evolving Infrastructure
Driven by hardware-level security, the Micron 7400 SSD with NVMe delivers PCIe Gen4 performance and the world's broadest PCIe Gen4 NVMe SSD portfolio for datacentre infrastructure innovation.
It is a flexible line of datacentre SSDs supporting standard server storage (U.3), cloud and 1U platforms (performance and density focused), and system boot (M.2)
Evolving Threats Managed With State-of-the-Art Security Features
The Micron 7400 SSD offers a robust complement of proven security features built over generations of Micron datacentre SSDs. In addition, it offers seven new security features that help address emerging concerns as data and data-driven applications are virtualized, moved to the cloud or containerised.
Learn more about the Miron 7400 or speak to the team for more information.