Perfect for the datacentre environment, Kingston's DC450R is a high performing 6Gbps SATA Solid-State-Drive with 3D TLC NAND, ideal for read centric enterprise application workloads.
Built with performance in mind, it provides world-class I/O and latency predictability, with strict QoS requirements, which are all a necessity to meet and exceed the demands of datacentre today.
Available from Simms today, work directly with our server team who are expert in helping deliver products like the DC450R SSD into datacentre environments, with direct access to Kingston's architects available as part of the set up as your memory and storage partner of choice.
Capacities from 480GB, 960GB, 1.92TB, 3.84TB, 7.68TB and perfect for the following:
Content Delivery Networks (CDN)
Edge Computing
Cloud Service Providers
High-speed databases
SQL server reporting services (SSRS)
An enterprise SSD solution
For those with database and web-based applications, this SSD reduces latency, which can benefit performance and leverage more predictable I/O.
Kingston's DC450R is built for read centric applications, with true performance consistency in Edge Computing and CDNs applications in the datacentre.
Data integrity protection, with ECC protection with advanced read/disturb management safeguards data corruption; end-to-end data protection.
Streamlined performance to strategically optimise business needs with a datacentre focussed feature set from this popular SSD choice from Kingston.
Make informed purchasing decisions
Our new service Simms Foresight aims to help you make better informed decisions around buying product like the Kingston DC450R and other DRAM/NAND technology.
DRAM and NAND are commodities, which are part of an up-and-down market with a tonne of variables and external factors controlling price from one-day-to-another. Such up-and-down nature relating to supply and cost can lead to some highly painful factors including reduced profitability, unexpected delays and mission-critical deadlines being missed. Worst of all, customer relationships can be seriously damaged in an instance by events which are seemingly out of your control.
Simms Forsight brings customers market updates, regular outlook and exclusive views backed up by aggregated data from world-class sources and our 30 years + experience.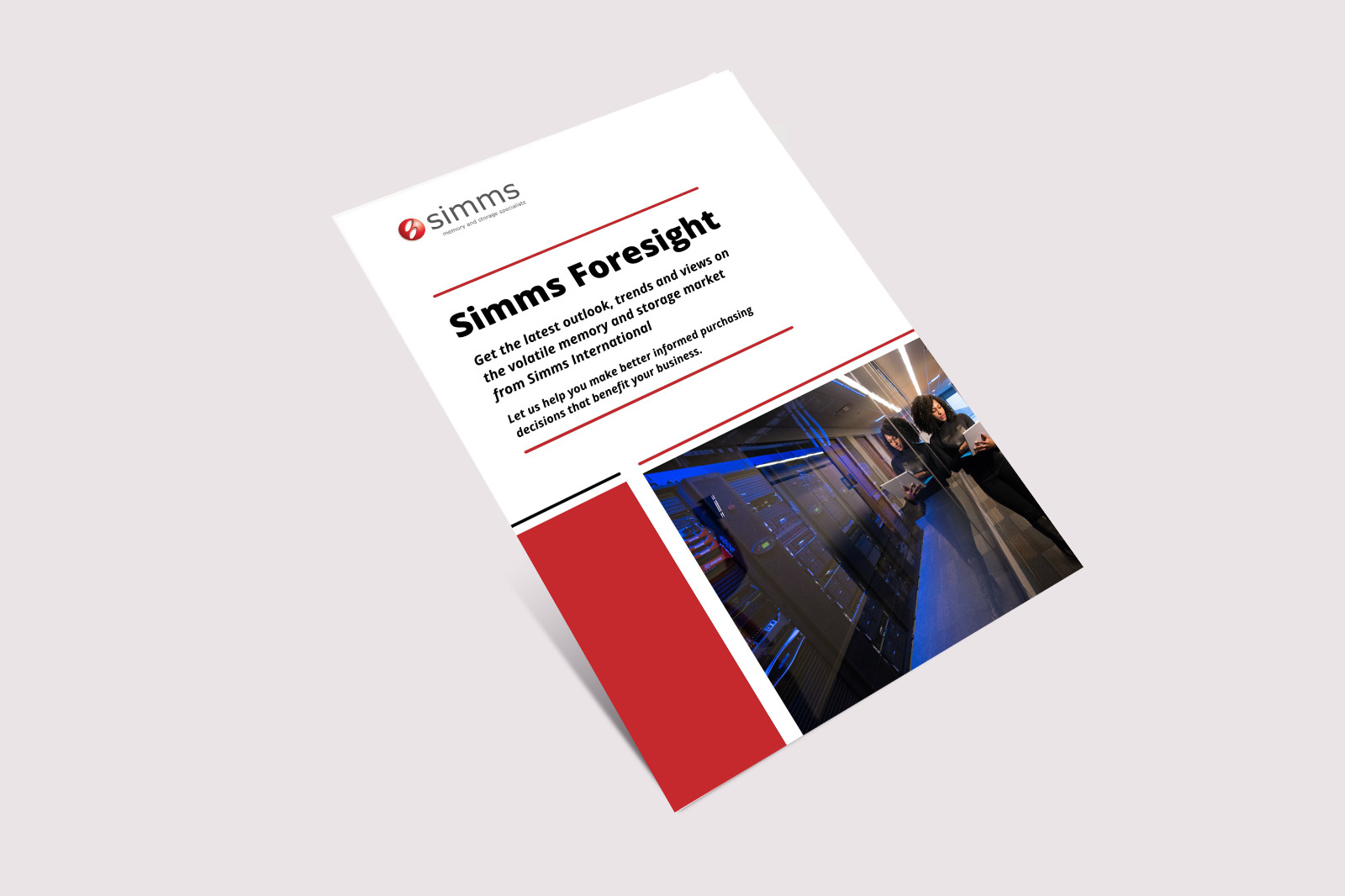 Form Factor
2.5″
Interface
SATA Rev. 3.0 (6Gb/s) – With backwards compatibility to SATA Rev. 2.0 (3Gb/s)
Capacities
480GB, 960GB, 1.92TB, 3.84TB, 7.68TB
NAND
3D TLC
Self-Encrypting Drive (SED)
XTS-AES 256-bit Encryption
Sequential Read/Write
480GB – 560MBs/510MBs
960GB – 560MBs/530MBs
1.92TB – 560MBs/530MBs
3.84TB – 560MBs/525MBs
7.68TB – 560MBs/504MBs
Steady-State 4k Read/Write
480GB – 99,000/17,000 IOPS
960GB – 98,000/26,000 IOPS
1.92TB – 99,000/28,000 IOPS
3.84TB – 99,000/26,000 IOPS
7.68TB – 99,000/19,000 IOPS
Quality of Service (Latency)2,3,4
TYP Read/Write: <500 µs / <2 ms
Hot-Plug Capable
Yes
Static and Dynamic Wear Leveling
Yes
Power Loss Protection (Power Caps)
No
Enterprise SMART tools
Reliability tracking, usage statistics, SSD life remaining, wear leveling, temperature
Endurance DC450R
480GB — 285TB (0.3 DWPD/5yrs)5
960GB — 582TB (0.3 DWPD/5yrs)5
1.92TB — 1301TB (0.3 DWPD/5yrs)5
3.84TB — 2823TB (0.4 DWPD/5yrs)5
7.68TB —5063TB (0.3 DWPD/5yrs)5
Power Consumption

480GB: Idle: 1.05W, Average Read: 1.25W, Average Write: 3.03W, Max Read: 1.25W, Max Write: 4W

960GB: Idle: 1.15W, Average Read: 1.3W, Average Write: 3.18W, Max Read: 1.3W, Max Write: 4.25W

1.92TB: Idle: 1.22W, Average Read: 1.42W, Average Write: 3.44W, Max Read: 1.42W, Max Write: 4.5W

3.84TB: Idle: 1.3W, Average Read: 1.48W, Average Write: 3.93W, Max Read: 1.48W, Max Write: 5.5W

7.68TB: Idle: 1.38W Average Read: 1.5W Average Write: 4W Max Read: 1.5W Max Write: 5.5W

Storage temperature
-40°C ~ 85°C
Operating temperature
0°C ~ 70°C
Dimensions
69.9mm x 100mm x 7mm
Weight
92.34g
Vibration operating
2.17G Peak (7–800Hz)
Vibration non-operating
20G Peak (10–2000Hz)
MTBF
2 million hours
Warranty/support6
Limited 5-year warranty with free technical support