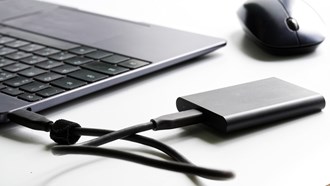 Last updated 8 June 2022
External storage has been around for several years, namely in the form of HDDs or Hard Disk Drives. As technology has advanced the $/Gb price now makes external SSDs extremely price competitive with HDDs. SSDs as we know, do not have any moving parts, are faster than HDDs and endurance is way better now than in early models.
What can External SSDs be used for?
External SSDs can be used for a number of things - storing music, photos, films, files, games etc - pretty much anything and can be plugged into a computer with a simple USB connection. Their portability makes them ideal for storing large non-sensitive files or backing up a PC or laptop. These external drives are generally not encrypted or have no password protection leaving your data open to theft. However, there are options if you need to keep sensitive data secure. More on that below.
Are External SSDs better than external HDDs?
There is no denying HDDs are cheaper than SSDs, but the performance and reliability of SSDs far outweigh that of HDDs. SSDs have no moving parts so are not susceptible to internal damage, if dropped, for example. SATA based drives are four times faster than HDD and PCIe SSDs are 10x faster than standard HDDs.
There are a plethora of options available on the market depending on your requirements, namely capacity, size, speed, and of course price, so deciding which one is right for you is a matter of personal choice.
Data transfer protocols
The data transfer protocol, namely NVMe plays a massive part in the data transfer speed. SATA is still the go-to for most manufacturers, but we are now seeing more manufacturers embrace PCIe technology for faster data transfer speeds. SATA based external SSDs will become obsolete in time. To put this in comparison HDD transfer speed is typically 100-200MB/s. SATA is up to 600MB/s and PCIe (Or NVMe as it is sometimes referred to) anywhere upwards from 800MB/s.
Crucial external SSDs
The higher the capacity the higher the price, which goes without saying but what about performance? Take the Crucial X8 and X6 portable SSDs. Data transfer speeds are up to 1050 MB/s - that's fast coupled with a 4TB capacity in a footprint of 69x64x11mm.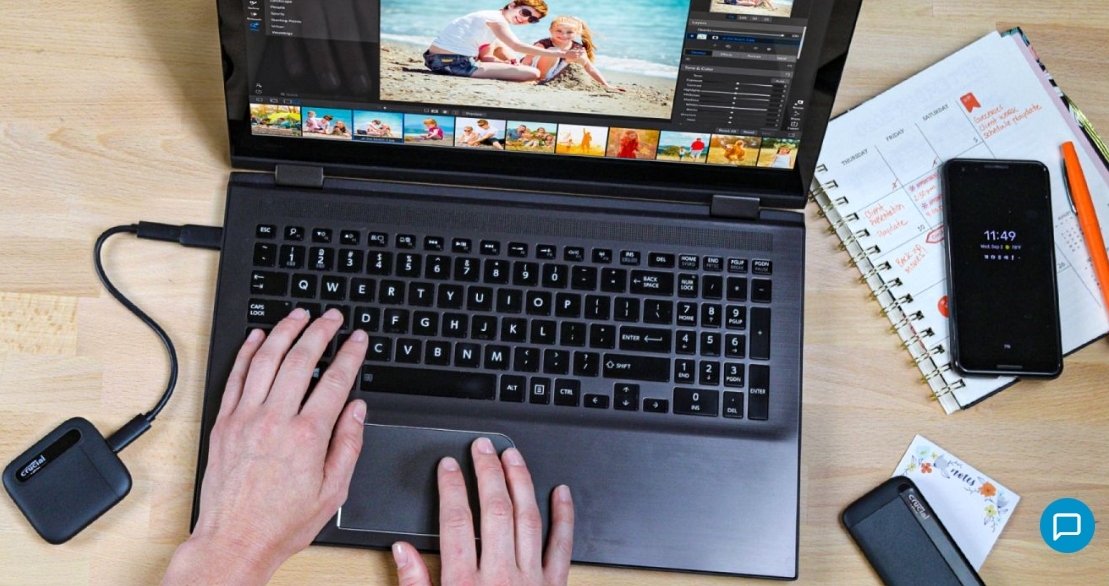 Connections also vary, some come with a USB-C others with USB-A but ultimately it depends on what you are using the external storage for.
Kingston XS2000 External SSD
Kingston's XS2000 Portable SSD utilises USB 3.2 Gen 2x2 speeds to deliver next-gen performance in a compact, external drive. With lightning-fast transfer speeds of up to 2,000MB/s, XS2000 delivers enhanced productivity with little interruption. XS2000 offers high-speed storage options of up to 4TB for offloading and editing high-res images, 8K videos and large documents in a flash. The drive is future-proofed to keep up with storage demands and compatible with most devices out of the box. It functions just like a hard drive but stores data using NAND flash technology. It connects with USB Type-C3, allowing content creators to access their data anywhere on a PC or mobile device. It's a super small drive with incredibly powerful performance and coupled with a USB-C connection it makes the transfer of data incredibly easy.
Whether you go between work, play and passion projects, the XS2000 includes a removable ruggedised sleeve and IP55 rating to withstand water and dust, making it the perfect companion for on-location photoshoots or adventures.
Apricorn Encrypted SSDs
If you are looking for an encrypted SSD then Apricorn offers the Aegis Padlock SSD with up to 4TB in capacity. Software-Free, 100% hardware-based 256-bit AES XTS encrypted, onboard keypad PIN authenticated, and ultra-fast USB 3.1 (3.0) data transfer speeds - it has it all. All Data is encrypted on the fly and the PINs and Data remain encrypted while the drive is at rest. Completely cross-platform compatible and OS agnostic; the Padlock SSD thrives with Windows, Linux, Mac, Android, and Chrome. It also thrives where software-authenticated encrypted devices can't even function, such as embedded systems, machines without a keyboard, and equipment in possession of a powered USB port and storage file system. All internal componentry is protected from physical tampering with a layer of hardened epoxy, and its firmware is locked down to prevent any modifications making it impervious to malware attacks such as BadUSB. It really is top-of-the-range James Bond equipment that even Q would be proud of.
Kingston IronKey Vault Privacy 80
Another new player in the external encrypted SSD market is the new Kingston IronKey VP 80 (launched May 2022).
As innate as unlocking a smartphone and simple drag & drop file transfers, VP80ES is designed to protect data while being user-friendly. Featuring an intuitive colour touch-screen and multi-password (Admin and User) option with numeric PIN or passphrase modes, Vault Privacy 80ES is superior to using the internet and Cloud services to safeguard data. This really is a next-level interactive way of storing sensitive files. Capacities range from 480GB up to 1.9TB and are packed with a whole host of features, making it ideal for the consumer.
Still not sure which external SSD is the right one for you?
As mentioned, it comes down to preference. The four external SSDs highlighted above gives some options from Simms International. All are great external SSDs but yet different depending on your requirements.