Tech Talk
Understanding Intel Optane Technology

Last updated 13 November 2017
Intel Optane technology is a smart and adaptable system accelerator that optimises system speed and responsiveness. Intel Optane™ technology is a unique combination of 3D XPoint™ memory media with Intel's advanced system memory controller, interface hardware, and software IP.
This technology is ideal for HPC applications and services that require fast access to large sets of data. The Optane SSD range comes in different form factors for varying requirements; 2.5 (U2) SSD and Half Height Half Length Add-in Card (HHHL AIC), with capacities of up to 750GB (AIC only).
For PCs, Intel's Optane series is designed for the most storage-demanding workloads in client systems, delivering high random read/write performance coupled with low latency and industry-leading endurance.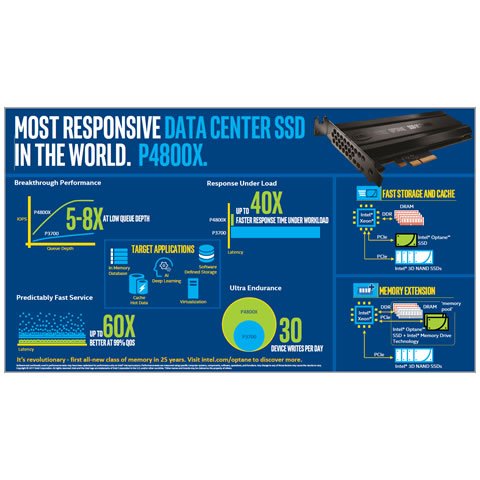 What's inside Intel Optane Technology?
Optane technology is a unique combination of 3D XPoint memory media, Intel Memory and Storage Controllers, Intel Interconnect IP and Intel software. Together, these building blocks deliver a revolutionary leap forward in decreasing latency and accelerating systems for workloads demanding large capacity and fast storage. Some of the key performance benefits of Optane technology include:
Intelligent software Accelerates frequent tasks and continually optimise computing tasks from system boot to application launch.
High-speed acceleration without compromising capacity Pair Intel Optane Memory with a mega capacity storage device for affordable high-performance responsiveness and large storage capacity.
Easy installation Insert the module, download the driver and install the default setting. Intel Optane Memory takes care of the rest.
High-Performance Computing
The Intel Optane Solid State Drive (SSD) helps eliminate data centre storage bottlenecks and allows bigger, more affordable data sets. It can accelerate applications, reduce transaction costs for latency-sensitive workloads and improve overall data centre TCO.
Use cases for today's data centre
Datacenters can explore two key use cases for the DC P4800X: fast storage or cache, or extended memory.
Fast storage or cache refers to the tiering and layering which enable a better memory-to-storage hierarchy. The DC P4800X provides a new storage tier that breaks through the bottlenecks of traditional NAND storage to accelerate applications, and enable more work to get done per server.
The extended memory use case allows an Intel Optane SSD to participate in a shared memory pool with DRAM at either the OS or application level enabling bigger memory or more affordable memory. Bigger memory dramatically increases the size of 'working sets' to enable new insights from data in growing segments such as scientific computing, healthcare, and autonomous driving. More affordable memory means data centres can use Intel Optane SSDs to displace some DRAM.
Key benefits
High throughput for breakthrough performance
Low latency for responsiveness under load
Predictably fast service for Quality of Service (QoS)
Ultra-high endurance for today's datacentre
Intel Optane Whitepaper: Building an Enterprise Data Strategy