Tech Talk
Is DDR5 made for the datacentre?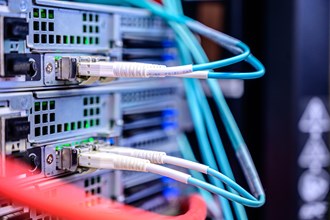 Last updated 13 January 2022
Data is growing at an exponential rate, with a number of factors spurring this on obvious trend. These largely consist around the rising number of devices that generate data, including smartphones which are close to the top of the chain. What's more, the growing prevalence of IoT and adoption of 5G technologies are pushing data numbers further and further.
With this, the datacentre must grow and expand its footprint to keep up with demand. This meaning more memory is certainly needed as hyperscalers (AWS, Azure, Google etc.) and cloud service providers become hubs of a worldwide data network.
How can DDR5 meet these demands?
With datacentre workloads needing to keep up with data demand, a key enabler in this will be higher-performing, highly-dense and simply better-quality memory – something the new DDR5 DIMMs definitely are compared to predecessors.
The datacentre can never get enough memory bandwidth, and this is where DDR5 can show significant improvements on DDR4. In fact, in 2020 Micron promised that servers will benefit from an 85% increase in memory performance when compared with DDR4.
"Micron has been driving deep technical engagements with the world's largest server and hyperscale companies to help them better understand how DDR5 can benefit their unique workloads," said Tom Eby, senior vice president and general manager of Micron's Compute & Networking Business Unit.
DDR4 server DIMMs top out at 3200 MT/s and for DDR5, these launch at 4800 MT/S which is a 50% increase in bandwidth which will play a huge role in supporting the workloads of today and tomorrow.
Other features are also likely to help meet demand. These include increased density, lower DRAM voltage and newer features like ECC (error correction code), post-package repair and on-module power-management. All a step up from DDR4.
| | | | |
| --- | --- | --- | --- |
| Feature | DDR4 | DDR5 | Benefit of DDR5 |
| Speed (Data Rates) | 1.6 to 3.2 Gbps | 4.8 to 8.4 Gbps | Higher bandwidth |
| Power Management | On motherboard | On DIMM PMIC | Better scalability and power efficiency |
| Device Densities | 2Gb to 16Gb | 8Gb to 64Gb | More capacity |
| Burst Length | BC4, BL8 | BL16, BL32, BC8 OFT, BL32 OFT | Higher efficiency |
| IO Voltage | 1.2 | 1.1 | Less power |
| DIMM Architecture | 1 channel per DIMM, 72-bit data channel (64 data + 8 ECC) | 2 channels per DIMM, 40-bit data channel (32 data + 8 ECC) | Lower latent, more memory efficient |
What current CPUs support DDR5?
Intel's were the first to announce their support for DDR5 with their 12th-gen Alder Lake S CPUs and AMD are expected to support DDR5 with their Zen 4 CPUs in 2022.
With the 12th-Gen Core Alder Lake processor, it will support a total of four 40-bit wide memory channels for DDR5, with the processor supporting up to 128GB of memory.
In terms of more specific dates and detail, Intel is restricting production of 4800 MT/s systems until June 2022 whilst AMD will initially support 5200 and 5600 MT/s systems when they launched towards the end of 2022.
If you have questions around motherboards and support of DDR5, check this article out.
Supporting cloud users
When it comes to cloud storage and services, DDR5 can help in delivering a much higher level of performance and speeds never seen before, scaling up and CPU core counts increase to meet our needs.
For DDR5, expect data centres to feel the benefits of enabling richer content to be delivered at better speeds to ultimately deliver a better experience for the user.
Before, cloud computing and datacentre services took existing memory technology to the edge of limits and capabilities, so something new was needed in this era. With DDR5, it provides it with its higher capacity and increased bandwidth capability, feeding the needs of data-intensive workloads.
However, it's a memory technology that will take a while to become mainstream.
As per below from Yole Developments, the adoption should be quite rapid in 2022 before becoming the mainstream in 2023, with the server markets being the first adopters of DDR5.
Whist DDR5 might not be full ready and available right now, 2022 should be a different story. Speak to Simms today about DDR5 upcoming availability. Simms can help with all of your memory and storage needs across datacentre and server.