Tech Talk
Understanding DDR5: The Latest DDR on the Market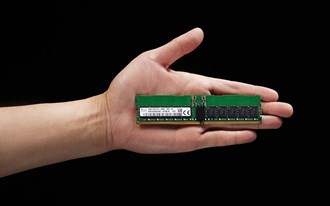 Last updated 31 March 2022
First revealed as a new standard of DRAM back in 2017, DDR5 RAM is the next generation following on from DDR4 RAM. DDR5 is the fifth generation and unlike the jump from DDR2 to 3 to 4, this time there is much more change in comparison.
DDR5 vs DDR4, Is DDR5 better than DDR4?
Well, the performance bar has been set higher than ever when comparing DDR5 to DDR4. In terms of speed, this latest generation is much faster than its predecessors. For example, the maximum data rate of DDR4 is 3200MT/s, compared to 4800MT/s for DDR5, showing an impressive bandwidth increase that could potentially be 1.87-times more.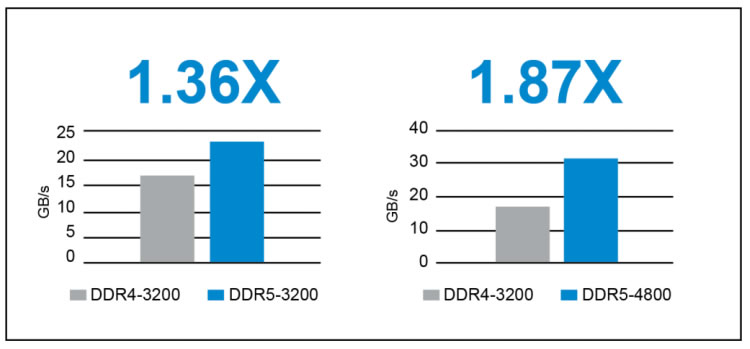 Another advantage of DDR5 over DDR4, is memory voltage. For DDR4, the operating voltage is 1.2v where DDR5 is 1.1v. So, there is a reduction here and with this comes change in that it would find the power management IC on DDR5 on the module itself, unlike previous versions where the IC would site as part of the motherboard circuit. Benefit? The power controlled on the DIMM itself can then achieve far greater granularity of power delivery for a more smooth, consistent, and reliable operation.
What's more, for die density there are differences in DDR5 over DDR4. DDR5 means that those with requirements of better capacity for their memory can benefit from DDR5 RAM and here's why: DDR5 will feature densities of 64GB on an available memory die where with DDR4, this has a maximum of 16GB per die. So basically, manufacturers will be able to squeeze more memory per module for use with the DDR5 generation of RAM.
Opportunities to come from DDR5
Such DDR5 modules will include two 40-bit independent channels per DIMM. These will be enabled by burst length 16. For DDR4, they used just one 72-bit channel per DIMM and burst length.
Efficiency and stability of DDR5 introduce local voltage regulation with power management integrated circuit (PMIC), which historically had been done on the motherboard.
The introduction of a registered clock drive (RCD) on DDR5 will provide a separate clock and address resource tom each independent channel on the DIMM.
Same Refresh Bank on DDR5 is an improved refresh scheme. This is to help further increase memory performance by targeting one bank per bank group.
The new DDR also introduces decision feedback equalisation (DFE). Why? To mitigate the effects that come with inter-symbol interference (ISI) at higher data rates.
When will DDR5 become mainstream?
DDR5 has started to hit the market midway through 2021, but still really hasn't arrived at consumer level yet, with the expectation that DDR4 will become mainstream by the end of 2021.
The transition of DDR4 to DDR5 will likely be a quick one but this won't come until 2022, in what has been a very unpredictable 2021 during the global chip shortage crisis.
For servers, phones, laptops and PCs, the technology should shift in 2023 with estimates of a 25% adoption in 2022 thanks to that of the datacentre and server market, this according to a publicly available memory industry report.
By the time 2022 arrives, Intel and AMD will likely be producing server platforms at scale to support DDR5 server DRAM. According to TrendForce, Intel will bring the first DDR5-compatible products to the server market with the Eagle Stream platform, with a small amount in production in the second half of 2021. As of right now AMD's upcoming Milan platform will continue to support DDR4 only and the firm will unlikely support DDR5 until the Genoa server platform is released, although there is no date confirmed for this.
If you're keen to know more about DDR5 DRAM, speak to Simms today who can help with all of your memory and storage needs across datacentre & server, industrial & embedded, workplace, consumer, and gaming.