Industry-leading solutions for the workplace environment.
Demands on the workplace have always been high, but even more so in the past 12 months. To keep businesses running efficiently IT equipment plays a big part. With workforces now being dispersed to work from home, the requirements to keep connected, productive and secure is vital with the increased use of webcam video calls, VoIP and media & data storage applications.
One option is to purchase a new laptop or desktop. But for many businesses, this is a costly exercise when budgets are under more strain. DRAM memory and SSD solutions help bridge that gap, by extending the life of existing workstations and PCs, whilst improving performance, endurance and reliability to ensure your IT estate is future-proofed for years to come.
Simms enable businesses to have confidence in their IT infrastructure with world-class memory and storage solutions by:
Providing quality and reliable DRAM & SSD upgrade solutions
Expert configuration advise supporting the application and workloads requirements
A team of experts guide you through the buying process and beyond via the UK VAR network
Protection against data breaches and GDPR compliance with award-winning encrypted SSD & USB flash drives
Our dedicated team of industry experts can walk you through the process of upgrading your IT equipment. If you have a reseller that provides your equipment, no problem, we supply memory and storage solutions to all the major UK providers.
Which products will help?
Developed specifically for the workplace, customers can benefit from the peace of mind of complete endurance for their important company data, with reliable, and fast performance for any type of workload.
Our workplace range of SSDs includes NVMe storage solutions, SATA and Optane in various forms factors to suit desktops, laptops, tablets small servers and everything in between. We also supply a comprehensive range of encrypted storage to ensure your data is secure at rest or away in the field. Memory comes in all kinds of configurations but our experts will help you choose the right solution for your IT applications.
Our partners include manufacturers who invest billions into producing and testing high-quality memory to help reduce the overall total cost of ownership for the customer today.
Pure performance, reliability and affordability are the industry standard when it comes to Simms and providing memory to its customers.
We support the very latest and legacy modules such as; DRR3 / DDR4 in RDIMM, LRDIMM, SODIMM and UDIMM.
Encrypted USB, Hard Drive & SSD
Data security is a fundamental requirement for business and government agencies today. These threats are not only financially costly with hefty GDPR fines, but can damage reputation and trust with customers.
Losing a laptop or USB with sensitive data could be detrimental if not secure. Help mitigate these risks with encrypted storage solutions to protect the data when it is outside of the corporate the network, whilst in transit, in the field or with mobile workforces.
We work with specialist partners Kingston and Apricorn who produce award-winning encrypted USB, SSD & HDD solutions.
Which services will help?
We're more than just a distributor. We are a partner of choice for the workplace, offering services that are hard to find elsewhere, keen on making a true impact throughout the supply chain.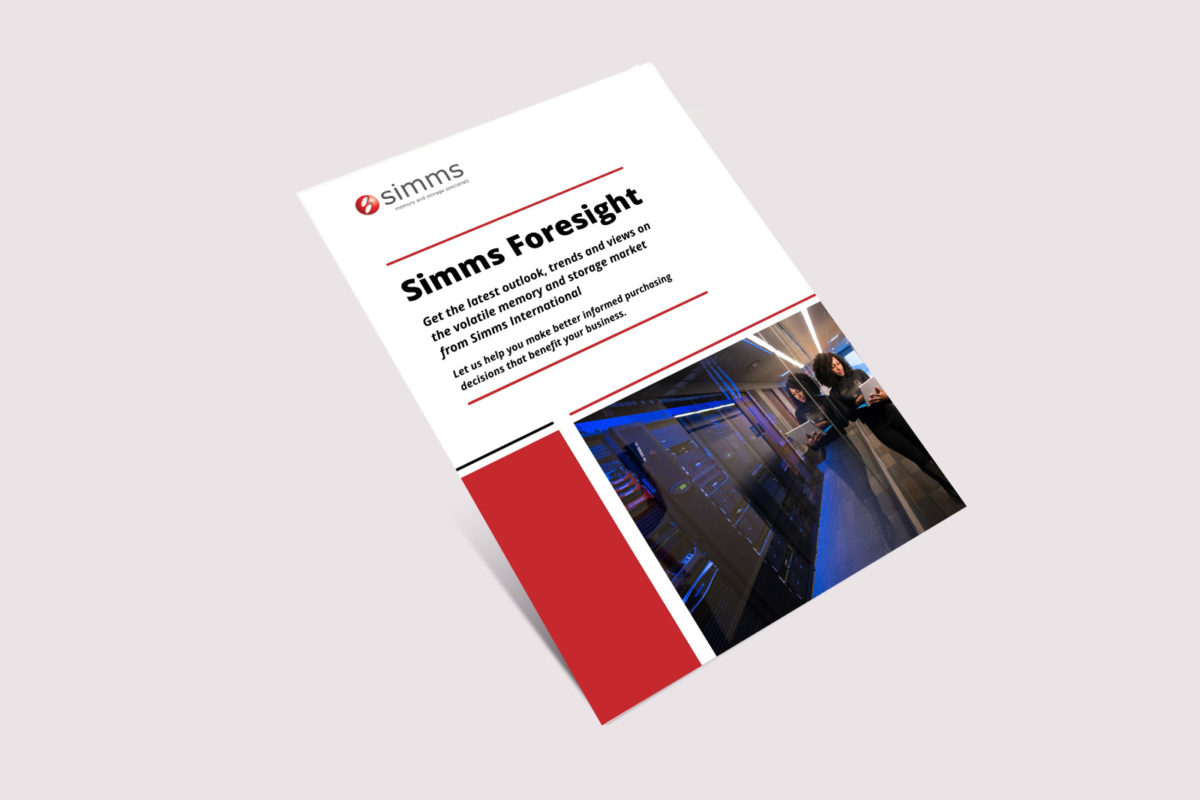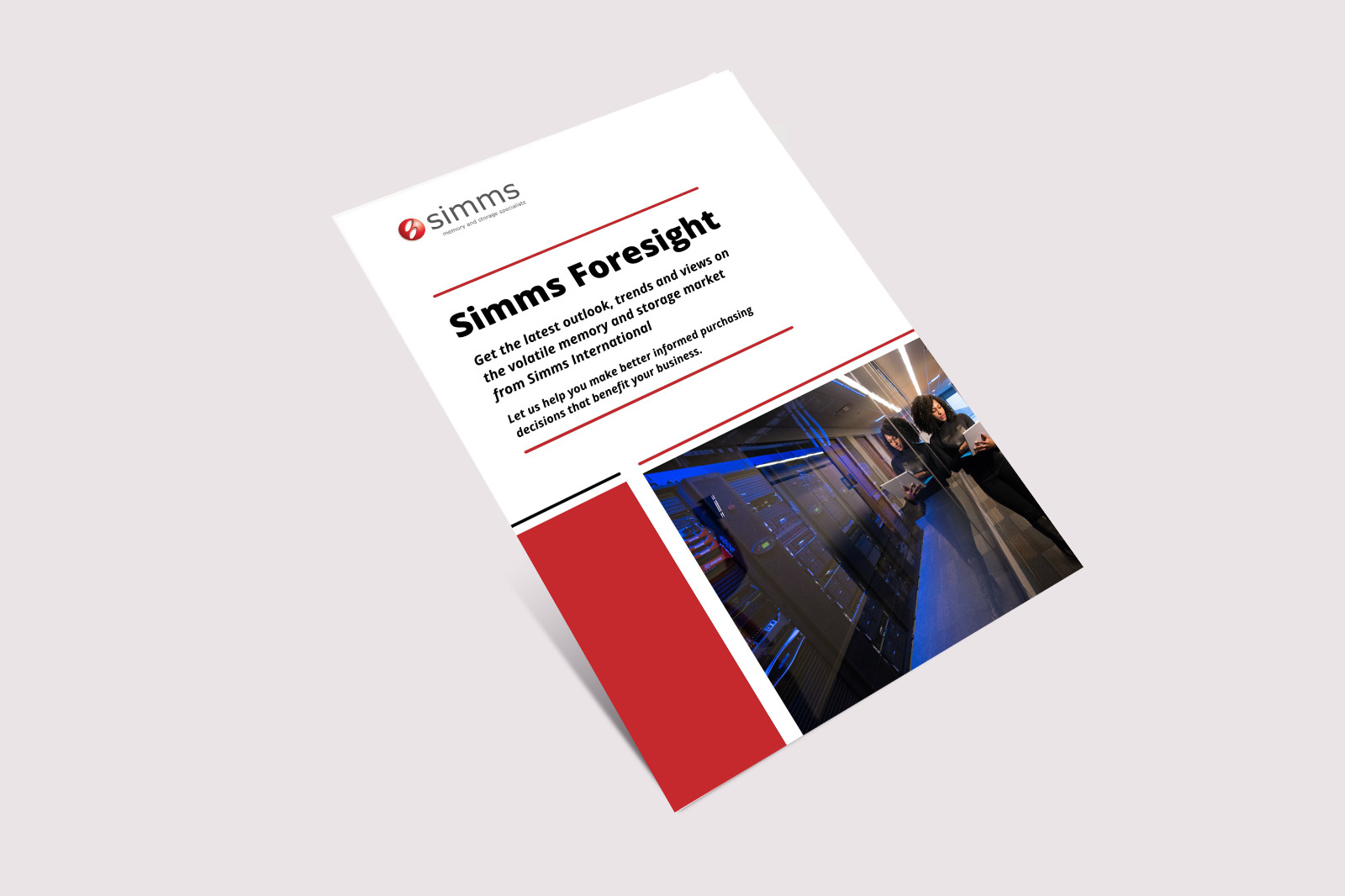 A service from Simms, which aims to give pure transparency of the volatile memory and storage market, by taking away the surprises and pain through regular outlook and foresight.
DRAM and NAND are commodities, which are part of an up-and-down market with a tonne of variables and external factors controlling price from one-day-to-another.
Such up-and-down nature relating to supply and cost can lead to some highly painful factors including reduced profitability, unexpected delays and mission-critical deadlines being missed. Worst of all, customer relationships can be seriously damaged in an instance by events which are seemingly out of your control.
Our experienced team have a deep understanding of the workplace IT environment. We work with your IT reseller to ensure you get the right solution on time and on budget
Expert market intel and guidance aggregated from research sources to guide you on when to buy at the right time as your memory and storage partner of choice
World-class memory and storage "Try before you buy" options on qualified opportunities across all of our vendors to ensure a "right-first-time" solution for your IT estate
Direct 'one-step-away' access to experienced technical memory experts at global vendors including our key datacentre vendors Intel, Micron and Kingston
Looking to speak to a workplace expert at Simms?
Get in touch to discuss world-class memory and storage today.