News
Product Launch: Crucial P5 Plus SSD with Heatsink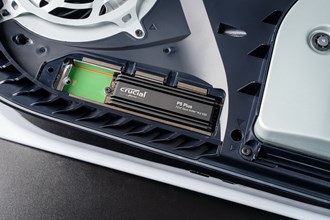 Published 27 June 2023
Take the win with the Crucial P5 Plus NVMe® SSD
Crucial® has expanded its P5 Plus SSD to include an integrated heatsink which delivers remarkable speed and data protection with sequential reads up to 6,600MB/s for transformative computing. Designed specifically for intensive workloads, high-quality creative content, and gaming, the P5 Plus with heatsink is ideal for use with PlayStation® 5, supports Microsoft® DirectStorage, and is also backwards compatible with most Gen3 systems for ultimate flexibility. Engineered by Micron® with Gen4 NVMe® technology, the Crucial P5 Plus includes advanced features like full hardware-based encryption, dynamic write acceleration, and adaptive thermal protection to keep your data safe while enhancing system reliability.
Key Features
PCIe® 4.0 NVMe® technology with up to 6,600MB/s sequential reads
Engineered for gamers, professionals, and creatives who demand high-performance computing
Built on our own leading Micron® Advanced 3D NAND and innovative controller technology
Reduce game texture load times with Microsoft® DirectStorage
Rated at MTTF greater than 2 million hours for extended longevity and reliability
Includes cloning and SSD management software for performance optimisation, data security, and firmware updates
5-year limited warranty
P5 Plus with integrated heatsink provides thermal protection and works with PS5™ consoles
Supports Microsoft® DirectStorage for faster gaming load times
| Part number | description |
| --- | --- |
| CT1000P5PSSD5 | Crucial® P5 Plus 1TB Gen4 NVMe™ M.2 SSD with heatsink |
| CT2000P5PSSD5 | Crucial® P5 Plus 2TB Gen4 NVMe™ M.2 SSD with heatsink |
Whether you are a PlayStation® 5 owner, gamer, high-performance user, or busy professional, the Crucial P5 Plus will transform your experience. Find out more about the Crucial P5 Plus SSD range or speak to your Simms Account Manager.