News
Product Launch: Kingston Industrial SD Memory Card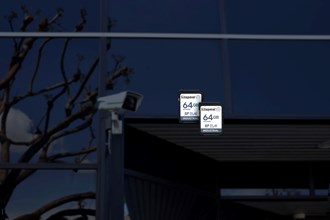 Published 12 June 2023
Tested to withstand extreme environmental factors
Ideal for extreme conditions
Kingston's Industrial SD card delivers superior endurance and reliability across industrial applications including automation, telecommunication, data systems, building management and POS systems. It is designed and tested to withstand the most demanding environmental factors. With an operating temperature of -40°C to 85°C, Kingston's Industrial SD card can operate normally in extended temperature ranges. The card utilises the industry-leading pSLC mode to provide reliable read speeds of up to 100MB/s*. It is rated up to 1920 TBW** with 30K P/E cycles and has a built-in feature set specific to endurance, performance and industrial needs. Kingston's Industrial SD is available in capacities from 8GB–64GB***.
Key Features
Durable in extreme temperatures
High endurance
UHS-I Speed Class U3, V30, A1
Industrial-grade built-in features:
• Bad block management
• Power failure protection
• Wear levelling
• Auto-refresh read distribution protection
• Dynamic data refresh
• SiP – system in package
• Garbage collection
• Health monitoring
| part number | description |
| --- | --- |
| SDIT/8GB | 8G SDHC Industrial pSLC |
| SDIT/16GB | 16G SDHC Industrial pSLC |
| SDIT/32GB | 32G SDHC Industrial pSLC |
| SDIT/64GB | 64G SDXC Industrial pSLC |
To find out more about the Kingston Industrial SD Card or to place an order, contact our team of experts today.
* Speed may vary due to host and device configuration.
** Terabytes Written (TBW) is derived from the endurance under the highest capacity and is based on internal metrics that quantify how much data can be written to a card in its lifespan.
*** Some of the listed capacity on a flash storage device is used for formatting and other functions and is thus not available for data storage. As such, the actual available capacity for data storage is less than what is listed on the products. For more information, go to Kingston's Flash Memory Guide.