News
Product Launch: Micron DDR5 Server DRAM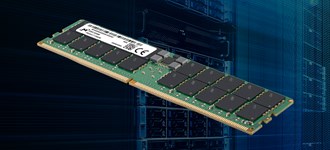 Published 6 July 2022
Micron® DDR5 server and workstation memory delivers more than a generational jump in speed and bandwidth, enabling the fastest high-performance systems for the new era of data centers.
Speed up next-generation application performance with Micron® DDR5 server DRAM: more than a generational jump in memory innovation. Reverse the trend of decreased bandwidth per core, feed rapidly growing processor core counts with memory bandwidth and capacity, plus enable nearly 2x the data rates of DDR4.
Best For: Maximizing DDR5 server and workstation performance for AI, deep learning, high-performance and cloud computing, virtualized supercomputing, and other data-intensive applications demanding the highest speed real-time memory available.
Key Features
Increase performance by up to 85% over DDR41
Initial speeds up to 4800MT/s2 (scaling up to 6400MT/s or higher in future releases)
Optimized for next-generation Intel® and AMD® server and workstation platforms
Three-year limited warranty
100% component and module tested
Operating voltage reduced from DDR4's 1.2V to 1.1V
Manufactured by Micron
Available in RDIMM, ECC UDIMM and ECC SODIMM3. Speak to Simms today.
| | |
| --- | --- |
| Part Code | Description |
| MTC40F2046S1RC48BA1R | Micron 64GB DDR5 4800 RDIMM |
| MTC20F1045S1RC48BA2R | Micron 32GB DDR5 4800 RDIMM |
| MTC20F2085S1RC48BA1R | Micron 32GB DDR5 4800 RDIMM |
| MTC10F1084S1RC48BA1R | Micron 16GB DDR5 4800 RDIMM |
| MTC36F2046S1PC48BA1R | Micron 64GB DDR5 4800 RDIMM |
| MTC18F1045S1PC48BA2R | Micron 32GB DDR5 4800 RDIMM |
| MTC20C2085S1EC48BA1R | Micron 32G DDR5 4800 ECC UDIMM |
| MTC10C1084S1EC48BA1R | Micron 16G DDR5 4800 ECC UDIMM |
| MTC20C2085S1TC48BA1R | Micron 32G DDR5 4800 ECCSODIMM |
| MTC10C1084S1TC48BA1R | Micron 16G DDR5 4800 ECCSODIMM |