Simms Foresight: Live Webinar – The Datacentre of Tomorrow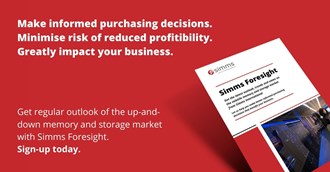 Event 1 February 2021
Simms will be holding an exclusive webinar for its customers and prospects, with industry-leading speaker Mark Day of Micron discussing The Datacentre of tomorrow: Why the Right Memory & Storage Makes all the Difference.
Webinar Details:
Date: March 25th 2020
Time: 9am to 10am (GMT)
Registration: Sign up here
Join us for our very first webinar of the year as part of our new Simms Foresight service, which aims to keep you informed of the latest market trends, with a deep insight into the memory and storage technology that is shaping the future.
What are we discussing?
The needs of datacentres are changing, and your customers' businesses are demanding more.
As companies embrace a raft of emerging applications and workloads including AI, machine and deep learning; virtualised infrastructures, cloud gaming, media intelligence and big data, naturally this puts pressure on servers. Coupled with the fact that the volume of data is growing and organisations demand lightning-quick reads across multiple data sources, it means that datacentres are tasked with having to get the most out of their memory and storage solutions to manage this. But what are the right technologies they should be adopting?
Our webinar, "The Datacentre of tomorrow: Why the Right Memory & Storage Makes all the Difference" taking place on Thursday 25th March 2021 at 9am will take a deep dive into these emerging trends and demands and explore the current state of the DRAM & NAND market, with an overall update from Simms after a Q&A with our main speaker.
Who's speaking?
Mark Day, Principle Technical Solutions Architect, CPG, Micron Technology
Mark Day is Principle Technical Solutions Architect, CPG, Micron Technology. Within his role Mark is responsible for technical engagements across EMEA, working with a raft of customers to integrate cutting-edge memory technologies into modern workloads. Prior to joining Micron in 2015, Mark has been a Senior Systems Administrator working in the VFX Post Production industry as well as holding various positions as a software engineer. With a career spanning 14 years, Mark is a proven technologist that not only presents to customers but is keen to get hands-on with the technology.
Agenda
9.00 – Intro from the Simms International team
9.10 – The Datacentre of tomorrow; What applications and workloads are driving the demand in the datacentre, by Mark Day – Micron
9.35 – Audience Q&A with Mark
9.50 – Market Update from Simms Forsight
10.00 – Wrap up and conclusions
How can I sign up?
If you're interested and involved in purchasing memory and storage, you can sign up for this exclusive FREE webinar today here.
Spaces are on a first-come, first-serve basis, with 100 in total.
Let us help you make informed buying decisions
A new service from our team, Simms Foresight, aims to give pure transparency of the volatile memory and storage market by taking away the surprises and pain through regular outlook and foresight.
Such up-and-down nature relating to supply and cost can lead to some highly painful factors including reduced profitability, unexpected delays and mission-critical deadlines being missed. Worst of all, customer relationships can be seriously damaged in an instance by events that are seemingly out of your control.