Tech Talk
E1.S & E1.L – The new server form factors explained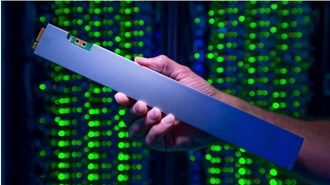 Last updated 3 November 2022
Keeping up and on track of emerging form factors can be difficult. The world of storage moves fast, and this includes their shapes and sizes.
Specifically for the data centre, a whole standard of its own comes into play in a fast-moving sector – the EDSFF, which stands for Enterprise and Data Center Standard Form Factor.
So, let's talk about that.
The EDSFF was built specifically to address the concerns and demands of datacentre storage. Within this family of form factors, it offers a range that have greater ability for the environment compared to the incumbent SSD form factors. This means advantages in capacity, performance, scalability, manageability, thermal and power management.
For datacentres, NVMe SSDs are a popular choice thanks to its flexibility and compatibility. EDSFF form factors share the same protocol and the same interface, being PCIe – making them the ideal fit.
Commonly, U.2, M.2, and 2.5" SSDs have been used for server, but we are likely to see a transition in 2022 and beyond. So, what will this be?
E1.L & E1.S form factors
Starting with E1.L form factor – L for 'long'. This datacentre form factor will come either 9.5mm or 18mm in thickness. It was developed to give maximum capacity per drive and per rack unit in 1U server in the datacentre.
Often described as a "ruler" in terms of its look as an SSD, it is made for dense storage projects within the datacentre and can help with that all important total cost of ownership by creating consolidation of storage with its high capacity per rack unit. The SSD form factor is hot-pluggable, meaning it can be added to expand the system, without the system being interrupted.
| | | | | |
| --- | --- | --- | --- | --- |
| Type of E1.L | Thickness | Max Power | Width | Length |
| E1.L 9.5mm | 9.5mm | 25W | 38.4mm | 318.75mm |
| E1.L 18mm | 18mm | 40W | 38.4mm | 318.75mm |
Alongside the E1.L, is the E1.S form factor – S for 'short'. Its thickness comes in four types compared to the EL.L, from 5.9mm all the way up to 24mm in thickness. Built just a bit longer than the M.2 but wider to accommodate more NAND flash to increase capacity, it fits the same into a 1U server much like the E1.L. The 15mm and 25mm options offer asymmetrical enclosures which is a trade-off for fewer drives per rack but with the benefit of better power/performance per drive.
The E1.S form factor will be a key player in driving the transition from M.2 and becoming the norm in datacentre.
| | | | |
| --- | --- | --- | --- |
| Type of E1.S | Thickness | Width | Length |
| E1.S 5.9mm | 5.9mm | 31.5mm | 111.49mm |
| E1.S 8mm Heat Spreader | 8.01mm | 31.5mm | 111.49mm |
| E1.S Symmetric Enclosure | 9.5mm | 33.75mm | 118.75mm |
| E1.S Asymmetric Enclosure | 15mm | 33.75mm | 118.75mm |
| E1.S Asymmetric Enclosure | 25mm | 33.75mm | 118.75mm |
How will the E1 form factor benefit the datacentre?
Consolidation and flexibility are key in meeting the demands of the datacentre. With the E1.S, we can combine a small form factor into1U with flexibility for how servers can be configured to drive higher levels of performance.
More space, more cooling – far greater server airflow
Specifically designed for hot-swap/hot-plug functionality for different devices
Most efficient modular scaling of NVMe performance and capacity
Lower base system infrastructure and drive costs overall
Higher density and High IOPs – more IOPs per inch compared to that of U.2 15mm
E3.S and E3.L - Worth a mention…
Not as prominent right now as E1.S and E1.L, but part of the EDSFF family of form factors – the E3 form factor comes in short and long also. Likely to transition for common use from the traditional U2. 2.5" form factors in servers, the E3 families use case will be in SSD and their size means they are large enough to fit a broader range of device types whilst allowing for x4, x8, or x16 lane PCIe host interface.
With many of the same benefits as E1.S & L, such as higher density flash storage for efficiency, being able to support PCIe 5.0 and overall greater cooling benefits – we will see these form factors become more popular in 2022 and beyond.
| | | | | |
| --- | --- | --- | --- | --- |
| Type of E3 | Max Power | Height | Width | Length |
| E3.S | 25W | 76mm | 7.5mm | 112.75mm |
| E3.S 2T | 40W | 76mm | 16.8mm | 112.75mm |
| E3.L | 40W | 76mm | 7.5mm | 142.2mm |
| E3.L 2T | 70W | 76mm | 16.8mm | 142.mm |
Has it been adopted yet?
The demand for E1.L isn't quite there yet. Supermicro launched a 1U ruler NVMe server back in 2018 but since then, we haven't seen much else hit the market. This likely comes down to organisations not seeing a need for twenty-plus 32TB SSDs within a single system - yet. The case for E1.L is definitely there for data centre and hyperscale, but the sector is yet to have use for something quite of this magnitude. Being greener is a top priority here with Supermicro saying up to the system gives up to 55% in airflow reduction required vs traditional U.2 drives with power reduction and better cooling costs.
With E1.S - OEMs are already there with the technology a bit more. Supermicro have the E1.S SuperMinute, for example - a 100% NVMe flash storage server. The on-board device storage details PCI-E fan out switching supporting 32x E1.S SSDs.
As well, Viking have enterprise options on the horizon and their VP of server and storage engineering Odie Killen had this to say, ,"The industry will see an increased uptake in E1 and E3 drive form factors, as these NVMe-based devices provide improved performance and lower latency over traditional SAS-based SSDs," Killen said. "The overall physical design of these products also enables better management of airflow, increasing thermal efficiency."
Conclusions
Technology changes fast and it feels like it moves just a little faster than normal in memory and storage. The emergence of CXL and PCIe developments will benefit from this next generation of server specific form factors that will ultimately make U.2 and M.2 a thing of the past for data centres.
Consolidation, sustainability, and flexibility are key in moving the data centre forward. With these set of form factors, they fit that mould on the journey of optimising cloud, AI, and 5G infrastructure via NVMe technology and high-density storage systems.
Speak to Simms today about how we can help you on this journey as a partner of choice in memory and storage solutions.