Tech Talk
Introduction to Embedded Storage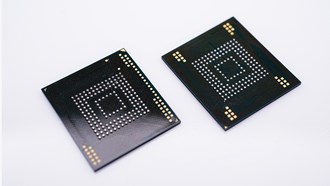 Last updated 7 January 2022
Embedded storage comes in all different shapes, sizes and capabilities, or as they are technically known – form factors. Embedded storage is widely used across consumer and industrial markets. Ho wit is deployed, a clue is in the name of it - it is physically embedded or soldered down to the motherboard.
Embedded storage: storage solutions for space-constrained devices
Consumer storage is much cheaper than industrial and performance is typically lower. Three lesser-known embedded storage form factors are becoming increasingly popular amongst design engineers. NanoSSD, BGA or Ball Grid Array and eMMC (embedded multimedia card) are attractive solutions because of their small size, high performance and large capacity.
These form factors are becoming more common in everyday consumer and industrial applications. In reality, they are 'all' industry-standard BGA's but named differently by manufacturers depending on their use and features.
Our world-class embedded storage partners include; ATP, Innodisk & Kingston.
Design-in embedded storage
Embedded storage is typically designed-in from the concept stage rather than added in retrospect as it's soldered down, or embedded onto the motherboard. Replacing it is tricky and needs specialist skills and equipment to replace. It's often easier and quicker to replace the complete motherboard rather than the embedded storage component.
Embedded storage simplifies system design and reduces time to market. The standard interface makes fast-changing NAND technology invisible to the host and the host processor doesn't have to keep changing its software to accommodate every NAND technology change and variation. This helps to significantly reduce the design-in complexity and shorten the qualification cycle.
BGA, eMMC and nano SSD are ideal for many electronic devices, including smartphones, tablet PCs, eBook readers, electronic learning products, smart TVs, set-top boxes, smart home appliances and many wearable devices.
Beyond their use in consumer products, they are being rapidly adopted in many other embedded applications, such as Single Board Computers (SBC), automotive, automation, robotics, medical devices, networking and building control devices because of their compact size, low-power consumption and numerous enhanced features.
With the rapid growth of the IoT market, these form factors are finding their way to the next generation of connected applications.
Watch how embedded storage is made
The techie stuff
Industrial grade 3D SLC/MLC/pSLC/3D TLC NAND Flash
-40°C to +105°C operating temperature
1GB – 512GB capacities
Small footprint – NAND and DRAM in one package
High IOPS – 190,000/170,000
Read/Write speeds – up to 1,500/900 MB/s+
SATA III or PCIe interface
Depending on the manufacturer additional technologies and add-on services include; controlled BOM, life monitor, sudden power-off recovery, System in Package (SiP), dynamic data refresh and auto refresh.