Tech Talk
Kingston Design-In SSD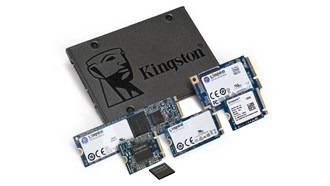 Last updated 4 April 2022
Simms International is an authorised Kingston distributor and have been selected as a specialist partner for Kingston's Design-In product range given our expertise and experience in delivering large scale projects across the globe.
If you are looking to cut costs, reduce total cost of ownership and take advantage of industrial grade storage benefits, the Kingston Design-In range could be a viable solution for your application.
Kingston Design-In is a perfect storage solution for system designers and builders
SATA & PCIe options
Kingston offers a line of Design-In SATA and NVMe solid-state drives created specifically for system designers and builders.
The line includes;
SATA 2.5-inch, mSATA, M.2 2242 and M.2 2280
PCIe Gen. 3 NVMe: M.2 2280, M.2 2230
Design-In SSDs incorporate advanced controllers that automatically perform wear-leveling, garbage collection and other NAND Flash management features. They are a dropin replacement for hard drives and deliver up to 20x greater performance as well as high reliability. Design-In SSDs incorporate next-generation 3D NAND Flash.
Kingston offers the following benefits with the Design-In SSD product line:
Locked BOM and Firmware – Ensures there are no changes to key components after customer qualification
PCN Support – All generational changes and firmware updates are handled through a controlled and timed process
Engineering Support – Customers have a direct contact to their regional Kingston Field Application Engineering teams for fast response to storage requirement questions and support requests
Global Support – Kingston can coordinate SSD deliveries with a customer's Original Design Manufacturers (ODMs) or Contract Manufacturers (CMs) in other regions of the world, if required
Warranty — For peace of mind, our Design-in SSDs are backed by a limited three-year warranty and free technical support.
Part number information
| | | |
| --- | --- | --- |
| Description | Capacity | Part number |
| 2.5" 7mm SATA SSD | 64GB | OCP0S364B-A0 |
| 2.5" 7mm SATA SSD | 128GB | OCP0S3128B-A0 |
| 2.5" 7mm SATA SSD | 256GB | OCP0S3256B-A0 |
| 2.5" 7mm SATA SSD | 512GB | OCP0S3512B-A0 |
| | | |
| --- | --- | --- |
| Description | Capacity | Part number |
| mSATA SSD | 64GB | OMSP0S364B-00 |
| mSATA SSD | 128GB | OMSP0S3128B-00 |
| mSATA SSD | 256GB | OMSP0S3256B-00 |
| | | |
| --- | --- | --- |
| Description | Capacity | Part number |
| M.2 2242 SATA SSD | 64GB | OM4P0S364B-A0 |
| M.2 2242 SATA SSD | 128GB | OM4P0S3128B-A0 |
| M.2 2242 SATA SSD | 256GB | OM4P0S3256B-A0 |
| | | |
| --- | --- | --- |
| Description | Capacity | Part number |
| M.2 2280 SATA SSD | 64GB | OM8P0S364B-A0 |
| M.2 2280 SATA SSD | 128GB | OM8P0S3128B-A0 |
| M.2 2280 SATA SSD | 256GB | OM8P0S3256B-A0 |
| M.2 2280 SATA SSD | 512GB | OM8P0S3512B-A0 |
| | | |
| --- | --- | --- |
| Description | Capacity | Part number |
| M.2 2230 PCIe SSD | 128GB | OM3PDP3128B-A01 |
| M.2 2230 PCIe SSD | 256GB | OM3PDP3256B-A01 |
| M.2 2230 PCIe SSD | 512GB | OM3PDP3512B-A01 |
| | | |
| --- | --- | --- |
| Description | Capacity | Part number |
| M.2 2280 PCIe SSD | 64GB | OM8PDP364B-A01 |
| M.2 2230 PCIe SSD | 128GB | OM8PDP3128B-A01 |
| M.2 2230 PCIe SSD | 256GB | OM8PDP3256B-A01 |
| M.2 2280 PCIe SSD | 512GB | OM8PDP3512B-A01 |
| M.2 2280 PCIe SSD | 1024GB | OM8PDP31024B-A01 |
| M.2 2280 PCIe SSD | 512GB | OM8PCP3512F-A01 |
| M.2 2280 PCIe SSD | 1024GB | OM8PCP31024F-A01 |