Tech Talk
PCIe 5.0: Everything you need to know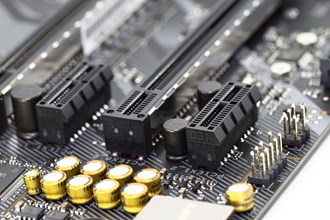 Last updated 22 July 2022
PCIe (PCI Express) is an important part of the computing world. It stands for Peripheral Component Interconnect Express and is one of two main interconnects that allows connections to GPUs, SSDs,, and other peripherals within your computing device.
PCIe is becoming important in allowing expansion cards on your motherboard to add vital functionality to your PC to meet the demands of today.
What is PCIe 5.0?
Formally released back at the start of 2019, PCIe 5.0 is the latest in the PCIe era.
Everyone is constantly looking to meet and exceed the demands of digital transformation and cloud - and the PCIe 5.0 era is another way to do that. PCIe 5.0 firstly enables system designers to balance bandwidth requirements by working with less lanes.
Comparing PCIe 5.0 to PCIe 4.0
PCIe 4.0 doubles the bandwidth of PCIe 3.0. So it's easy to see that PCIe 5.0 doubles the bandwidth of PCIe 4.0.
| | | |
| --- | --- | --- |
| Bandwidth | PCIe 4.0 (Link Speed 16 GT/s) | PCIe 5.0 (Link Speed 32 GT/s) |
| x1 | 3.94 | 7.88 |
| x2 | 7.88 | 15.75 |
| x4 | 15.75 | 31.51 |
| x8 | 31.51 | 63.02 |
| x16 | 63.02 | 126.03 |
PCIe 5.0 will be viewed as an extension of the previous standard, doubling bandwidth, frequency, and gigatransfer compared to Gen 4. What this means for users is that data can essentially be transferred at far greater speeds.
What's more, with faster speeds there is a larger chance for signal loss. The PCIe 5.0 standard builds in capabilities to better handle the noise and signal loss compared to that of PCIe 4.0.
Upgrading
To upgrade we have to be compatible when jumping PCIe gen. For 12th Gen Intel CPUs, 5.0 support means either one x16 or two x7 PCIe slots can run at PCIe 5.0 speeds for memory storage purposes and for graphics, which is very important with gamers - and poses a good question - do you even need to uprgade?
Upgrading is the need of a higher bandwidth user. For lower bandwidth users, it's not likely you'll need to make the shift up to PCIe 5.0 when it comes or even PCIe 4.0 right now. You're only really going to need to if you are using the latest video cards and storage devices that use PCIe 5.0 or 4.0 lanes and/or you want to future-proof your set up.
The motherboards needed to be compatible are H610, H670, and B660 chipsets. Chipsets are starting to be released steadily throughout 2022.
PCIe 5.0 CPUs are currently available from Intel, while AMD currently only supports PCIe 4.0. AMD's Zen 4-based Ryzen 7000 desktop CPUs will be the manufacturers first CPU to support PCIe 5.0 and is expected to release in the second half of 2022.
Why PCIe 4.0 now and PCIe 5.0 in the future?
Ultimately, these generation platforms will give you more choices when you shop for peripherals and how you will go about configuring them, thanks to flexibility. PCIe 4.0 and 5.0 will ensure you'll be able to implement world-class data centre SSDs over the next few years in all of its capacities. The latest NVMe SSDs will benefit from PCIe with higher throughput per lane.
Available right now in PCIe 5.0, is very little on the SSD front. Samsung have released drives in the Gen that they claim double the performance numbers compared to their PCIe 4.0 drives.
For PCIe 4.0 - the new mainstream as we slowly introduce PCIe 5.0, a range of drives are available right now from Solidigm, Micron, and Kingston - vendor partners at Simms.