Tech Talk
Solidigm's D7-P5520 SSD is unlocking the potential of data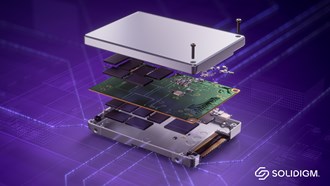 Last updated 30 May 2022
Introducing the Solidigm™ D7-P5520
Deep industry insights has allowed the newly formed Solidigm (formerly Intel) to expand its data centre SSD portfolio with the D7-P5520, built on multiple generations of PCI 4.0.
Available in a variety of form factors and capacities, this extensive portfolio of data centre SSD delivers performance tuned for real world helping accelerate compute and storage workloads for data centres, cloud providers and the enterprise.
Unlocking the potential of data
Solidigm claim this is the most advanced data centre SSD portfolio and they're on a mission to unlock the potential of data. The P5520 is here to help redefine the real world performance with impact in real world workloads. The drive is designed to deliver results whilst in use, not on the spec sheet.
With this, let's see how the P5520 from Solidigm stacks up against the competition including the Samsung PM9A3 in some real-world server scenarios.
Reduced latency under write pressure
Unlocking Cloud Compute: Up to 22% lower latency than the Samsung PM9A3
See below an example of the P5520 value compared to others when using a cloud computing services workload. Such services and usages present a highly random, mixed workload environment which consists of primarily small block sizes.
Unlocking eCommerce: the P5520 delivers more TPS with higher bandwidth and lower latency
Such workloads use OLTP databases. These process large numbers of small transactions. This supports multi-user access while ensuring data integrity. When it comes to high transactions per second at low latency, this is king.
Unlock Enterprise Storage: Improve productivity in mixed usage environments compared to Samsung PM9A3
With general purpose servers, they run a mix of usages that can include databases, data backup, DR and email services. What's more, content delivery presenting mixed environment consisting of both sequential and random patterns in what is typically small block sizes to the storage system.
Unlock Enterprise Storage - Databases: Lower latency and lower is simply better
Small random IO databases such as OLTP generate random reads and writes with block size typically in the 2-8K range. With transactions per second (TPS) at a premium, throughput and latency is king.
Unlock Enterprise Storage - Data Pipelines vs the Samsung PM9A3
So why are data pipelines used? Well they drive down storage costs, reduce copies, and create a single source of trust. Data pipelines enable assembly of disparate data to create new insights along with new services. The workload is an easy view of a complete data pipeline consisting of prep, ingest, inference, and training. So let's see the data vs the competition.
It's clear - the Solidigm D7-P5520 can compete at the top and is now an industry leading data centre SSD, in multiple scenarios. The overall performance is impressive and it comes in available to engineers and technologists right now to test in various capacities and form factors suited to that of a server environment. With this, Simms are offering the chance to such an audience to sample and test the D7-P5520 in their infrastructure today.