Innodisk's 3MG2-P SSD with AES engine increases data protection
Data security is critical for many industries in need of protecting their personal information as well as corporate and national security. Adding encryption has been a common method to ensure the security of data. Currently, the US Government protects their classified data by adopting AES (Advanced Encryption Standard). AES offers an effective way to protect all types of classified data. It is widely used for securing sensitive information throughout various industries such as medical and military. To support the requirements and demands of market, Innodisk developed the 3MG2-P SSD equipped with an AES 256-bit engine. This product combines a reliable and rugged design with superior performance.
How does Innodisk 3MG2-P AES encryption work?
After the 3MG2-P receives the data package from the host, the AES engine encrypts the data packets and saves the encrypted data into a NAND flash. This action ensures that there's no unauthorized access to the data in the NAND flash. The 3MG2-P with AES encryption and an ATA security-authorized key can provide advanced security protection for your data with the encryption key being stored in a secured area of the SSD. You can quickly destroy the data on the drive by simply destroying the AES key because without the AES key, the data cannot be unencrypted. This method is faster than a software-based encryption and takes less than 1 second to perform. Here is a diagram illustrating the encryption process during a typical secure file transfer.
Summary
The key Features of the 3MG2-P with AES are; 
Equipped with hardware-based AES 256bits Key, Instant data erase when destroying the AES key
Avaible in 2.5″ SSD, SATA Slim and mSATA form factors
TCG OPAL 2.0: independent access control to read/write/erase
Largest capacity up to 2TB
The lifespan of SSD is maximized with exclusive L² architecture
iData Guard technology for abnormal power failure
DEVSLP supported for lower power consumption
Supports wide temperature from -40°C to 85°C
| | | | |
| --- | --- | --- | --- |
| Form Factor | 2.5″ SSD | slimSATA | mSATA |
| Interface | SATA III 6.0Gb/s  | SATA III 6.0Gb/s | SATA III 6.0Gb/s |
| Flash Type | MLC | MLC | MLC |
| Capacity | 64GB to 2TB | 32GB to 512GB | 16GB to 512GB |
| Sequential R/W (MB/Sec, max | 520/360 | 530/370 | 530/370 |
| 4KB Random(QD32) R/W(IOPS)** | 70,000/64,000 | 70,000/73,000 | 68,000/69,000 |
| Max. Power Consumption | 6W(5Vx1.2A) | 2.9W(5Vx590mA) | 5.4W(3.3Vx1.64A) |
| Dimension(WxLxH/mm) | 70.0 x 100.0 x 6.8 | 54.0 x 39.0 x 4.0 | 29.85 x 50.8 x 3.6 |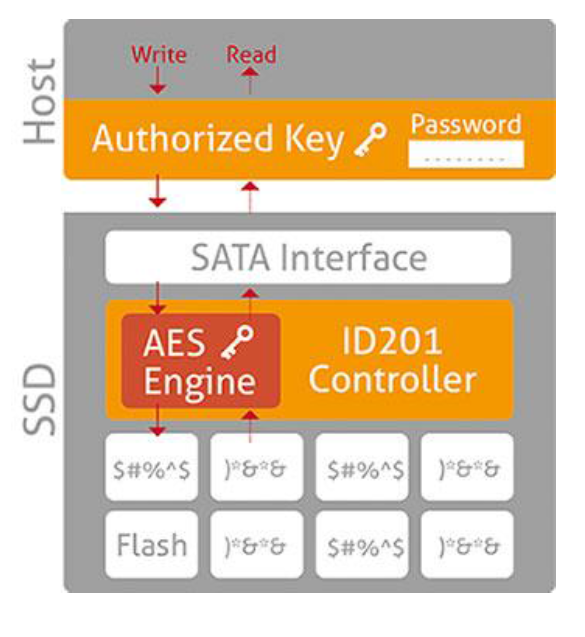 Down load the white paper by clicking on the link below