Tech Talk
3D NAND: An Introduction and Overview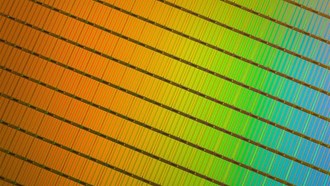 Last updated 31 March 2022
Here at Simms, we like to keep our customers and visitors to our website informed of developments in memory and storage. Arguably one of the biggest, if not the biggest development in the last 30 years is the introduction of 3D NAND Flash. The concept of 3D NAND is not new, it has been around for several years but getting it working consistently has been a challenge.
What is 3D NAND?
In layman's terms, 3D NAND is the stacking of memory (or silicon) chips on top of each other. Some manufacturers call this V (for vertical) NAND. The aim is to make your device faster, hold more information, run more efficiently and use less energy.
The concept has been around for several years but only recently have developments have taken a significant step forward. The first to launch was Samsung, a household name that is by far the largest NAND Flash manufacturer, with 40% of the global market. Other manufacturers are now following suit. This switch led to shortages in 2017 for 2D NAND (which is still extremely popular.)
NAND Flash Shortages - a guide from Simms on Vimeo.
How is 3D NAND made?
2D NAND Flash goes through over 800 different processes to make just one wafer (which is the size of a large pizza). One wafer takes around 30 days to make and is then shipped to a vendor, such as Kingston, who add the NAND into their own products.
NAND Factories or 'FABS' are huge and run 24/7 365 days for maximum efficiency and are 100 times cleaner than hospital operating theatres. 3D NAND requires even more processes to be made as the cells are stacked on top of each other.
3D NAND is more difficult to make than previously thought and unlike 2D NAND, which is a planar structure, 3D NAND resembles a vertical skyscraper. A 3D NAND device consists of multiple levels or layers, which are stacked and then connected using tiny vertical channels.
Today's leading-edge 3D NAND parts are 32- and 48-layer devices. Scaling 3D NAND to 64 layers and beyond presents some major challenges but some manufacturers are already targeting 96 layers. 3D NAND is expected to hit the ceiling at or near 112 layers in future.
Beyond 3D NAND
To extend 3D NAND beyond 128 layers, the industry is quietly developing a technology called string stacking. Still, in R&D, string stacking involves the stacking of individual 3D NAND devices on top of each other. For example, if one stacks three 64-layer 3D NAND devices on top of each other, the resulting chip will represent a 192-layer product.
The trick is to link the individual 64-layer devices with some type of interconnect scheme. This is not a simple technology to develop. Even with string stacking, 3D NAND would top out at or around 300 layers, according to experts.
To find out more click on the video (left) to watch how Toshiba (the second-largest NAND manufacturer) manufactures 2D NAND Flash.
The image illustrates how current 2D and 3D NAND compare in their structure. Although 3D NAND is not as fast as RAM it certainly bridges the gap between current NAND and RAM.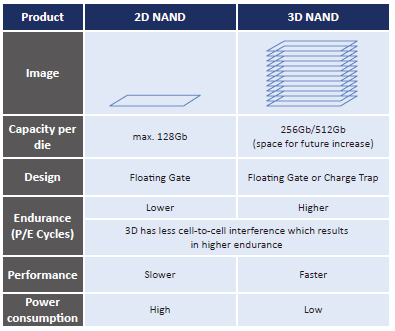 Where are we now?
3D NAND is readily available in mainstream consumer devices, such as smartphones, tablets, and computers. Intel is using 3D NAND across their entire range of SSDs which includes datacentre, personal and enthusiast data storage.
On the industrial side 3D TLC is very much in mainstream industrial form factors such as; 2.5", mSATA, M.2 and slimSATA, with capacities already hitting 1TB and in some cases 2TB.
As manufacturers continue to explore and push the boundaries of 3D NAND we can, in the future, expect to see larger capacities and quicker speeds.
Future of SLC, pSLC and MLC
3D NAND is a huge development and undoubtedly has its plus points. But is it ideal for industrial applications? Like most things it depends on what you are using for. 3D industrial is a high capacity and lower cost NAND than SLC and MLC flash. SLC AND MLC are not going anywhere overnight, in fact, supply and demand are still strong for both given their performance characteristics. However we have recently published an article on the future of MLC NAND which explains the changes in the market during COVID. Read it here.
3D NAND is well worth a look alongside SLC and MLC products and sits at the lower end of the pricing scale. We know this technology and expert help is at hand to ensure you get the right-first-time solution.