Tech Talk
BiCS5 and what it means for you.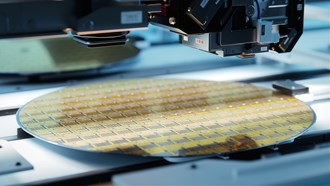 Last updated 22 February 2022
In a fast paced technology world, consumers are always looking for more capacity and faster speeds. Looking into NAND Flash technology there has been a major shift over the past few years as manufactuers have pushed the boundaries of 3D TLC NAND Flash. So, what has happened?
BiCS 5 - the latest and greatest?
BiCS5 is the latest incarnation of 3D TLC NAND with up to 112 layers in a single NAND Flash chip. 3D NAND is where layers are stacked vertically rather than a single layer 2D NAND chip (SLC, MLC, pSLC). This had led to an incredibly fast development of 3D NAND Flash over the last 5 years.
What has happened?
The table below shows how BiCS NAND has elvolved since the introduction of BiCS 3 in 2017.
| | | | |
| --- | --- | --- | --- |
| | BiCS 3 | BiCS 4 | BiCS 5 |
| Introduced | 2017 | 2020 | 2021 |
| Layers | 64 | 96 | 112 |
| Availability | *** | * | **** |
| Cost - GB/$ | ** | *** | **** |
| Performance | *** | *** | **** |
| Endurance / TBW | ** | *** | **** |
| Capacity | ** | *** | ***** |
| Roadmap | 2022 | 2022 | Through 2025 |
(5 Stars, the best - 1 Star the worst)
As the table shows, BiCS 5 beats its earlier incarnations in all areas, but crucially, for the manufacturers, the cost GB/$ is key. More on that below.
Simms Industrial vendors are all using validated Industrial NAND guaranteed for 3,000 Program / Erase Cycles whether its BiCS3, 4 or 5.
Why was BiCS4 so short?
COVID! BiCS4 was in the right place but at the wrong time. Component shortages saw many 3rd party manufacturers drop BiCS4, or pass it by altogether and focus their attention on introducing BiCS5 NAND into their product line up. Some BiCS4 is available in the market although you are bettter off switching over to BiCS5 if you are looking at longer term project based applications.
Below we have outlined the argument for switching over to BiCS5
Pros BiCS5 over BiCS3 & BiCS4:
Most competitive pricing per GB whilst still delivering excellent quality and reliability
Highest available capacities i.e. M.2 2242 based on BiCS3 1TB based on BiCS5 2TB (Better TBW values based on smallest available capacity, providing a superior endurance for customers to similar or better costs)
Better availability as more focus goes into production of the latest NAND. Longest product roadmap through 2025
Increased data transfer speeds when paired with the latest controller technology and PCIe NVMe Gen4 x 4 technology.
Synced user capacity - No requirement to rebuild an image for upload due to reduce available capacity.
Like everything there are cons to the pros
Cons BiCS5 over BiCS3 & BiCS4
Legacy form factors like CompactFlash, PATA SSD, IDE-DOM are unlikely to adopt 3D NAND as older controllers will not support the newer NAND and new controllers are unlikely to be released due to declining market size for these form factors. SATA technology now is seen as a legacy technology, whilst it will be supported for many years in the Industrial & Embedded market most technological advances will be around PCIe NVMe technology.
Improved controller technology required as NAND evolves so does the need for controllers to have better Error Correction Code (ECC) and management of the NAND.
BiCS5 is only available with support of 0°C to +70°C operating temperatures. -40°C to +85°C support likely to be available from Q2 2022.
So why should I switch to the latest 3D BiCS NAND?
In the field of information processing, real-time performance is considered an important requirement as a huge amount of data must be managed by big-data systems or indefinitely stored by data centres and cloud service systems. In this situation, high-capacity storage is required to process, store and manage large quantities of data at high speed and low power consumption.
Additionally in smaller industrial units the latest BiCS5 Flash could easily replace MLC NAND and to a lesser extent SLC. Think of it this way. Minimum capacities for BiCS5 are 128GB, so replacing a 32GB or 64GB MLC SSD will see a higher capacity and longer life expectancy given the extra space it has to fill up with data, all for the same or a better price.
BiCS FLASH will be the solution satisfying the market requirements and older 2D Planar NAND will be harder source if demand drops and will then become obsolete.
There is also another rather important thing to consider – the lack of controllers for MLC NAND. Controller manufacturers need to get a quicker ROI and are driven where the NAND market goes in this case 3D TLC. Unfortunately, it's not a simple case of swapping an old for new controller. Whilst there is still demand for MLC NAND it will eventually phase out and be taken over by 3D BiCS5
What are Simms's partners doing with 3D NAND?
Simms Industrial vendors are all using validated Industrial NAND guaranteed for 3,000 Program Erase Cycles whether its BiCS3, 4 or 5, with minimum capacities outlined below for different types of NAND Flash.
Minimum capacities available (without downsizing **)
SLC (2D Planar) = 512MB
MLC (2D Planar) = 8GB
3D TLC (BiCS3 64 Layers) = 32GB
3D TLC (BiCS4 96 Layers) = 64GB
3D TLC (BiCS5 112 Layers) = 128GB

* Down-sizing is a customisation services where a larger sized NAND IC is seen as a lower capacity solution i.e., 512MB SLC microSD is seen as 128MB (usually this is driven by host system requirements and maximum capacities acceptable).
Different Types of NAND Flash
Understanding NAND flash and what is the right type for application is a bit of a minefield so getting the right fit, form and function for your device, application or project is crucial to save time, cost and engineering resource. After all, you don't want a failure weeks after a deployment. Speak to the experts at Simms who can advise you accordingly on the different types of NAND, form factors and customisation option available to get a right first time fit. Read more about 3D NAND Flash
Beyond BiCS5
Flash partners Kioxia and Western Digital revealed in 2021 a brand-new generation of 3D NAND flash memory that promises to be much faster and far denser than anything they have produced before. BiCS6 features 162 layers and 70% more bits per wafer than the preceding BiCS5. That 70% allows for a 40% reduction in NAND chip size, helping to cut manufacturing costs. This is just an announcement of BiCS6's capabilities, so don't yet know when it'll be produced. But if it's anything like BiCS5, it'll take another year before we see the best SSDs featuring the new technology. Watch this space!
Conclusion
There is still good supply of BiCS3 3D TLC NAND Flash as it's still, currently, the preferred option in industrial grade memory and storage as it's well proven, reliable and has good performance and endurance. However, there will be a shift towards BiCS5 in the industrial arena and it will happen sooner rather than later, possibly in 2022 according to current roadmaps.
Today's state-of-the-art chips are arguably the most sophisticated devices ever designed and produced, and they are a direct result of decades-long scaling efforts. The performance and cost benefits of shrinking devices laterally and expanding them in the vertical dimension has required significant advances in semiconductor manufacturing equipment and increasing collaboration between equipment suppliers and chip makers. This can only be good news for the consumer and later down the line, industrial users as joint collaboration drives down costs and brings faster time to market.
Speak to the experts
If you are looking to switch from 2D to 3D then partnering with an expert who understands the technology, knows the ramifications of switching and has access to product roadmaps, Simms is your partner.